Have you tried screencasting? Or are you an adept user and want to upgrade your experience with a new tool? We researched and compared the 13 best screen recording software for Windows (both free and paid) to help you find an ideal fit for your specific needs and present them for you here.
While various screen capture tools differ in price and functionality, most share a number of features, such as:
adjustable video frame
cut-and-paste editing options
unlimited recording time
Which tool should you use to make an effective video tutorial, create an eLearning course, market your business to online customers, or even record a new maneuver in your favorite game? This shortlist provides everything you need to make an informed decision and start creating.
Free Screen Recording Software that Saves Money
Whether you've paid for numerous software after using trial versions and received nowhere close to the bang for your buck that was anticipated, or you're looking to save some money, there are plenty of free screen recorders that can get the job done with satisfying results without emptying your pocket. A word of caution though: some software companies may require a paid upgrade after you download their "free" tool.
We compiled seven outstanding and safe, free screen recorders that successfully compete with the best paid screen recording tools.
1. Free Cam
Free Cam is a very simple free screen recorder with a built-in audio/video editor. The attractive and intuitive interface allows you to create screencasts with the ease of a professional. Even though this software is free, it doesn't place any watermark and is ad-free.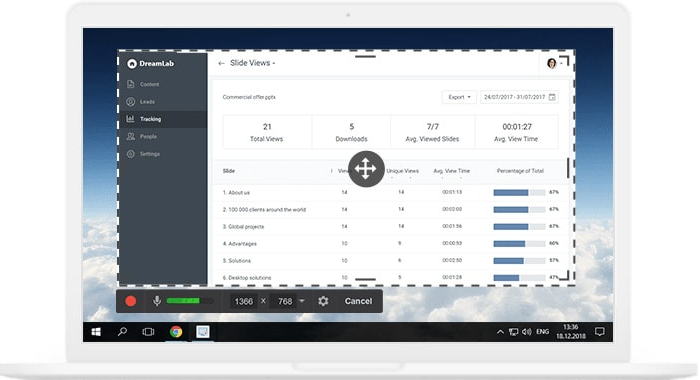 Pros
No watermark, time limits, or ads
Records voice-overs and computer sounds
High-quality resolution
Users can save videos as WMV or upload them directly to YouTube
Easily deletes unwanted video fragments
Removes background noise
Wide selection of audio effects
Cons
Saves recordings to WMV only
No webcam recording
Watch this demo to see what you can do with Free Cam:
2. DVDVideoSoft's Free Screen Video Recorder
Free Screen Video Recorder is a full-featured but lightweight free screen recorder from a developer known for its free conversion software. It can record Skype conversations with no limitations and is therefore useful for Skype interviews and online conference calls. Also, different Windows applications can be singled out and captured as discrete elements. Included is a basic user-friendly image editor that is surprisingly helpful for attaining a polished look.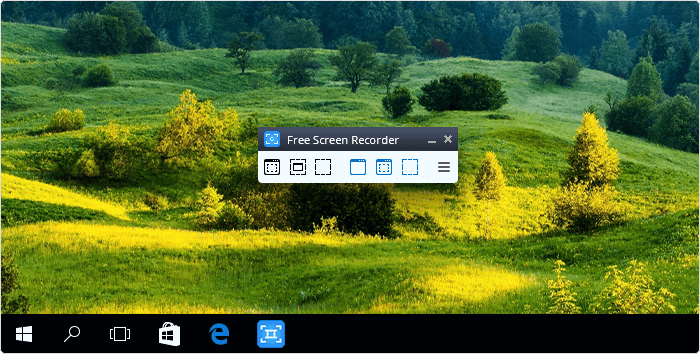 Pros
Offers a convenient screenshot feature
Different modes for recording screen and video
Suitable for recording Skype conversations
Step-by-step instructions provided on the website
Available in 10 languages
Output formats include MP4, BMP, TGA, JPEG, PNG, and GIF
Cons
Microphone sound recording only
Excessive ads may interrupt your work
Saves recordings to AVI only
Lacks coherent interface and built-in media player
May install unwanted software during download
Does not notify users if disconnection occurs
Here's a video on how to capture your screen with Free Screen Video Recorder:
3. ShareX
ShareX is an open-source ad-free tool that boasts almost as many custom features as some paid software screen recorders. ShareX is mostly targeted toward developers and power users, so an average customer might get lost in the many advanced tools and editors.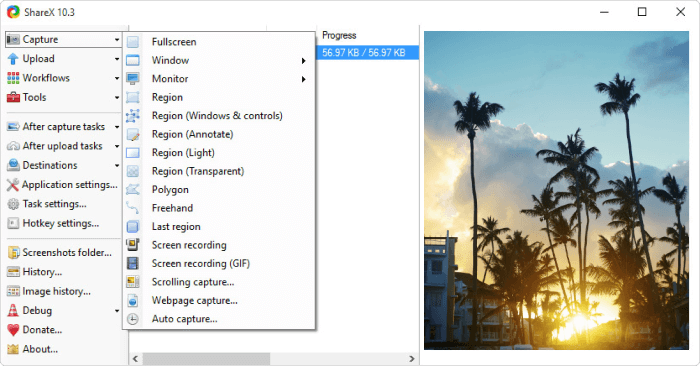 Pros
Records full screen, window, monitor, region, freehand, or scrolling
Incorporates hotkeys for easier and quicker navigation
Supports many URL sharing services
Imports existing videos, music, or photos
Allows custom watermarks and color effects
Cons
Low quality of game recording
Complicated for the average user
No webcam recording
Reported to fail while uploading large files
No video editor
Learn more about ShareX from this video:
4. CamStudio
CamStudio is a good choice for one-time or occasional users with minimal editing needs. This lightweight, open-source screen recording software creates videos in AVI format that can later be converted to SWF. While its compactness appeals to some, others call for further development and increased technical support.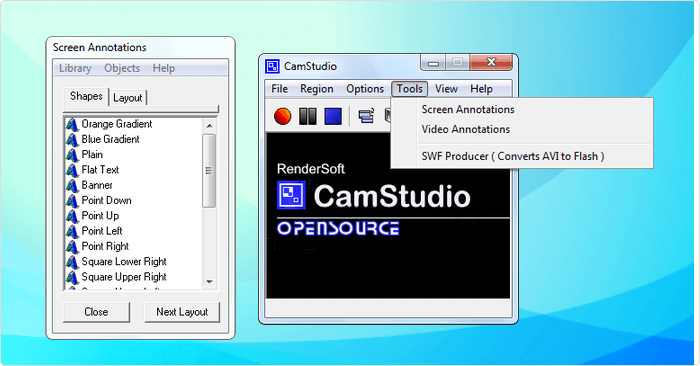 Pros
Creates a screen-in-screen video
Allows you to create small-sized files
Custom cursor
Quality options available for output video
Cons
Reported to spread harmful viruses and malware
Outputs only to AVI with a conversion to Flash
Output is incompatible with certain browsers
Audio falls out of sync
Lack of interactive and animation features
To explore how to use CamStudio, watch this video:
5. Ezvid
Ezvid claims to be the world's easiest screen recorder, and that may not be too far from the truth. Ezvid's clarity is enhanced by the product's speed: specifically designed to save users' time, it will help you produce and upload videos directly to YouTube in a matter of minutes. That is why the tool enjoys notoriety among gamers and movie fans who are interested in frequently making video clips in the quickest manner possible.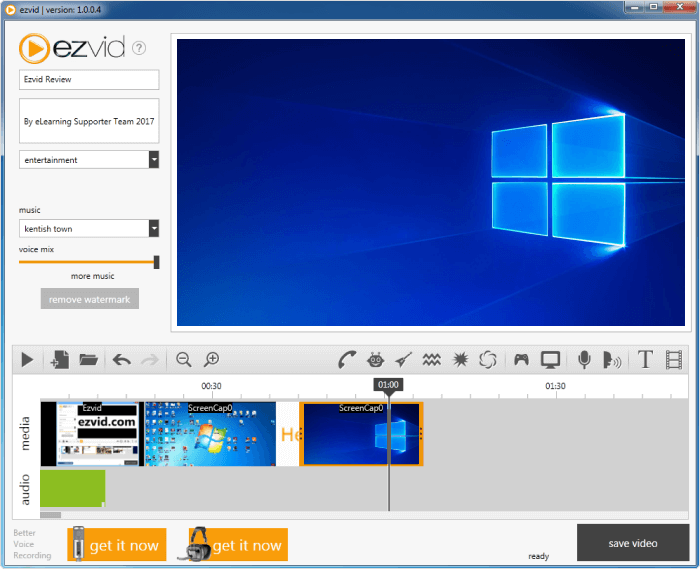 Pros
Offers computer-generated speech for narrative purposes
Automatic high-quality resolution (1280 x 720p HD)
Speed control over output videos
Sleek and modern interface
Instantaneous upload to YouTube
Selection of popular music tracks included
Cons
Reviewers report extraneous noise
Minor bugs and inconsistencies
Fullscreen game is not available
6. TinyTake
TinyTake by MangoApps is a sophisticated screen recorder that allows you to capture images and videos from your computer screen, add comments, and share them with others in minutes. TinyTake comes with an online cloud-based gallery where you can store all your screen captures and recorded videos.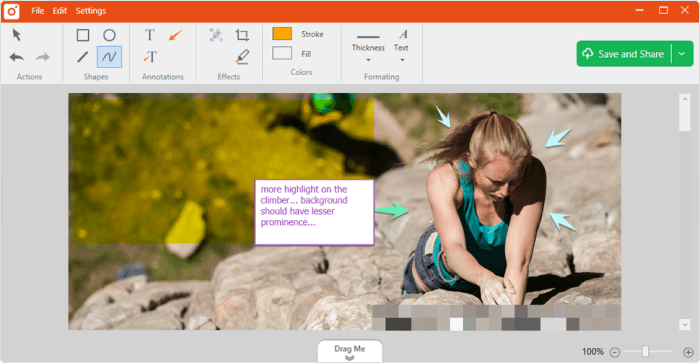 Pros
Bulk file sharing
Public URL available for sharing
Built-in online file viewer for images, videos, and documents
Allows you to create custom shortcut keys
Video player is compatible with mobile devices
Cons
Free version has a 5-minute limit for video recording
Video files are saved as MP4 only
Limited editing features
Here's a video on how to use TinyTake for recording videos: