Are you looking for an affordable, beginner-friendly way to make professional-quality videos? Screencast-O-Matic's free screen recorder makes it easy to record your webcam, screen, or both.
Follow this step-by-step guide, and you can create perfectly polished videos in no time. Use the screen recorder to make how-to videos, tutorials, e-learning videos, product walkthroughs, and more.
Take it from digital marketing expert Kristian Ole Rorbye. He says the screen recorder helps him foster clarity and connection with his team and customers.
"I record a lot of guides and how-to videos about how to use online services," he says. "This gives a far more personal touch where my viewers can see and understand what's going on."
This guide is for beginners, so if you already know the basics and you're looking to dig deeper.
If you're a beginner, keep reading to get started.
Getting Started With the Free Screen Recorder:
Choose which device to use for recording. Screencast-O-Matic is available on multiple devices including Windows PC, Mac and Chromebook.
Here's how to access the desktop screen recorder:
From this page, click "Launch Screen Recorder."
A pop-up will appear indicating that the recorder is launching. If it doesn't appear, download the recorder app.
The Screen Recorder will pop up on your screen. Now you can start recording.
Here's a tip for Chrome users: Get quick access to our video creation tools by launching the screen recorder with the Chrome browser extension.
You can also use the free screen recorder with your Android and iOS iPhone iPad devices.  You can download those separately from the Google Play and Apple Store.  We have separate tutorials for those in our Tutorials page.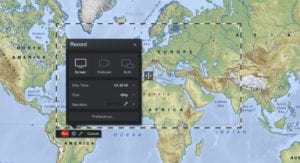 Recorder Controls:
Within the recorder, you'll notice a range of customization options to tailor your video to your needs.
First, decide how you'd like to record.
Screen – This allows you to record everything within the recording frame on your screen.
Webcam – Record yourself using your webcam.  You may want to do a camera test before recording.  Check if you have other webcam sources that may work better for your recording.
Both – Show your webcam and your screen simultaneously. Your webcam will show up as a tile in the corner of your recording window, and you can move it around the screen as needed. This option imparts a personal touch to videos and enables you to gesture to information on your screen while presenting.
Note these other essential controls before recording:
Max Time – Record up to 15 minutes per video for free, or upgrade to a Deluxe or Premier account for unlimited recording time.  You can record as many videos as you want with both the free and paid versions of the screen recorder.
Size – For easy resizing, choose a preset recording window size of 480p, 720p, Active Window, or Full Screen. For a custom size, click and drag the corners and sides of the frame.
Audio Narration – Add voice narration from your selected microphone. The screen recorder can also record audio sources connected to your computer.  You may want to mic test (microphone test) before you start audio recording.
Computer Audio – The free recorder will only capture narration. Upgrade to our Deluxe or Premier plan to capture computer audio.